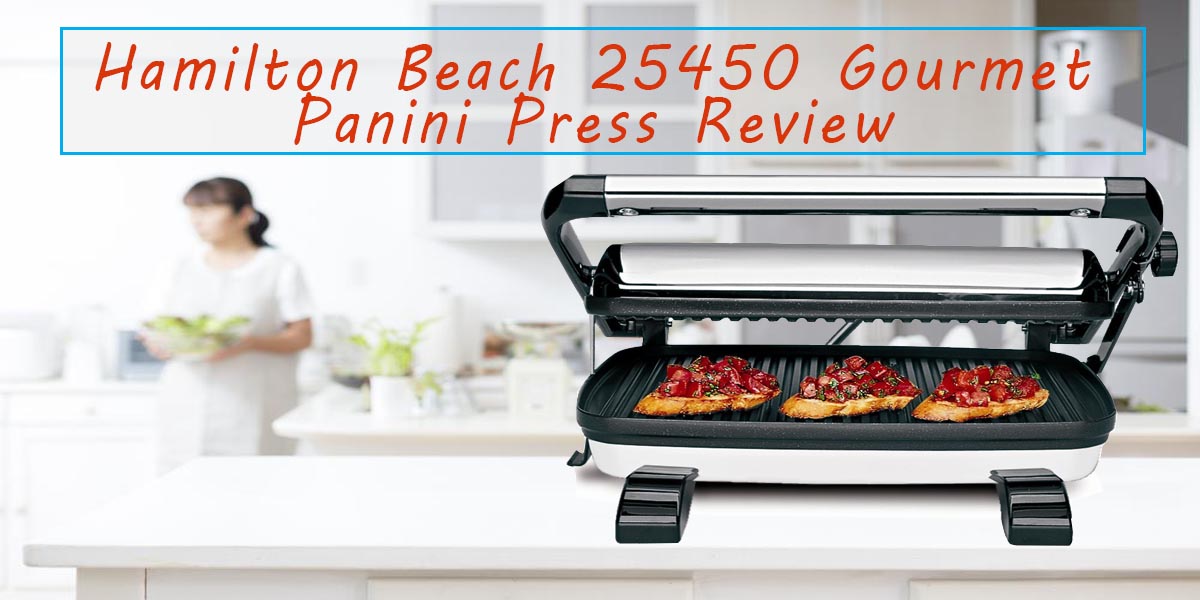 Hamilton Beach 25450 Gourmet Panini Press Review
If you are looking for a healthy way to make a variety of sandwiches, having a Panini Press is a must have for your kitchen. With so many people having busy lifestyles, many tend to skip breakfast/lunch or just grab the fastest thing they can, which is usually not a healthy option. A Panini Press lets you make quick healthy meals though.
There are many Panini presses on the market, but we will be doing a Hamilton Beach 25450 Gourmet Panini Press review for you today.

​Hamilton Beach is well known for its many home appliances and this particular model has a stainless steel body, a floating lid that can lock, 8 ½ by 12 inch nonstick plates, a 13 ½ by 11 ½ overall measurement and can be stored upright. It sounds like it gives you everything you need for deli style sandwich making.
Let's take a closer look at how well the Hamilton Beach 25450 Gourmet Panini Press measures up.
Healthier Sandwich Making
Let's face it, we all get bored with our basic tuna, or bologna sandwiches. The Hamilton Beach 25450 Gourmet Panini Press gives you a way to quickly make hot, toasty and healthy sandwiches for even the pickiest of eaters.
However, it's the health factor that is a feature of this Panini Press. Many shy away from taking the healthy route because they feel getting healthy meals together is time consuming and you are left with bland meals. If you could make yourself a toasted veggie sandwich in mere minutes though, it changes your perspective on making healthy meals.
You can make breakfast, lunch and dinner on this Panini Press with the assurance that all of the ingredients, such as meats and cheese, are cooked through. You are able to cook up to 4 sandwiches at a time on this product as well. This is great when you need to make different sandwiches in one go.
Customize Your Ingredients
The floating lid feature on the Hamilton Beach 25450 Gourmet Panini Press allows you to grill any size sandwich thickness evenly. Even better, you can make your sandwiches your way and the combinations are endless.
You can make your favorite deli sandwiches right at home for half the expense that you would pay in a deli, and you will know exactly what is in your sandwich. Do you want a 3 cheese sandwich on whole grain bread? You can have one in mere minutes.
This Panini Press can accommodate the thinnest and thickest slices of bread; English muffins, sandwich rolls, tortillas, wraps and pita bread are just a few of the choices you can have.
Even homemade thick crusty breads can be grilled or toasted. It's a really a great appliance to have if you have picky eaters in your home, or people who have different tastes. You can make a vegetarian and full meat sandwich side by side.
Convenient Storage
One of the features of this product its storage efficiency. The Hamilton Beach 25450 Gourmet Panini Press is fairly large but it can be stored horizontally or upright. This is ideal for kitchens that need to use their space efficiently.
The dimensions of the unit are 16.3 inches by 13.3 inches by 5.8 inches and it only weighs a pound. The stainless steel body also makes it blend in quite easily with your other kitchen appliances.
The designers of this unit put some thought into space saving while not skimping on grill size, which is great if you have very little counter space, live in a college dorm or small apartment or need to store the unit in a cabinet. Bigger units can be bulky and hard to store.
Being able to make your meal and then pop the Panini Press up on its side and out of the way is brilliant. I have mine tucked between my refrigerator and toaster.
More Than Just Sandwiches
Another feature of the Hamilton Beach 25450 Gourmet Panini Press is its versatility in what you can make on it. Aside from being able to make those hot delicious sandwiches, you can make a personal pizza or quesadillas. Its also great for making some desserts, like crepes or a warmed up piece of cake.
You can use a small ramekin dish to bake mini cakes, make some homemade waffle cones for ice cream, cook bacon or crispy hash browns, grill potatoes or even make an omelet. Aside from grilling and cooking your food, you can use the Panini Press to warm food up.
The generous surface area also means you can grill up big batches of vegetables in one go instead of having to fry them in a pan or bake them in an oven, which can take some time and attention. Since the Panini Press is a grill, you can even grill fish, chicken and hamburgers on it.
Performance
Most sandwich makers or Panini Presses can struggle a bit with your basic store bought breads. However, this model seems to struggle less than others. It evenly crisps bread and heats ingredients.
One thing that you need to take into consideration is the placement of your ingredients though. If you pile everything on in the middle of the bread, chances are it won't heat evenly, and this will happen with any press.
We saw quite a few comments from customers advising that you layer your ingredients evenly in order to get the best sandwich. Others pointed out that this product didn't smash the bread to bits like they had experienced with other Panini Presses.
Having an older sandwich maker myself, I could see how badly it mashed the bread, making my sandwich more like a quesadilla. The Hamilton Beach 25450 Gourmet Panini Press however leaves just enough air in the sandwich too keep it from being flattened like a pancake.
Preparation And Cleanup
One thing that you want in a good Panini Press is a unit that is easy to clean and doesn't take much time to prep. The Hamilton Beach 25450 Gourmet Panini Press has non-stick surfaces that allow the food to be peeled off smoothly.
While the plates themselves are fairly easy to clean, they are not detachable and cannot be washed separately, which means you need to clean it before storing it again. Some users pointed out that the surface seems a bit more square than other presses and this can make it hard to get in the corners.
The unit doesn't take long to heat up and you don't really need to use a non-stick spray. You can use a light layer of vegetable oil or place a layer of aluminum foil on the plate to reduce any mess. For the most part, you can easily wipe down the plates once they have cooled. If you are using the press to grill meat, expect cleanup to be a bit messier.
Design Of The Panini Press
The Hamilton Beach 25450 Gourmet Panini Press has a floating lid that will lock in place, allowing you to prepare open space snacks as well ad pressed sandwiches. Many like the larger cooking area, but some found it frustrating that the press went from conveniently compact when stored to taking up a lot of counter space.
One more thing that was pointed out was the fact that the unit does not have a cord wrap feature, which would make it even more convenient for storage purposes.
Pros
Upright storage, a plus for this fairly large unit
You can make deli-like sandwiches easily
You can fit a variety of sandwich sizes in the press
Non-stick plates makes it easier to clean
Chrome housing makes the unit robust in design
Cons
When in use the unit is rather large
Plates are not detachable, so can't be easily washed in the dishwasher
Plates have fine ribbing, which makes it awkward to fry eggs or make pancakes
Unit housing can get fairly hot
Q: Does this Panini Press open flat so that you can use both plates for grilling?
Q: What are the plates made of?

Q: Where can I find a users manual?
Q: What is the power consumption of this unit?
The Hamilton Beach 25450 Gourmet Panini Press does have a space efficient design for storing and a large enough grilling area to prepare and cook high quality meals. Its also sold at a fairly affordable price.
Cleaning, while easy with the non-stick plates, can be somewhat awkward due to the boxiness of the grooves and the inability to detach the plates for separate cleaning. This is made up for by the quality of the sandwiches you can make and the units ability to toast sandwiches without flattening them.
The Hamilton Beach 25450 Gourmet Panini Press does offer a good combination of features and is a good choice for both family use and single person use. Overall its a good appliance for the money.