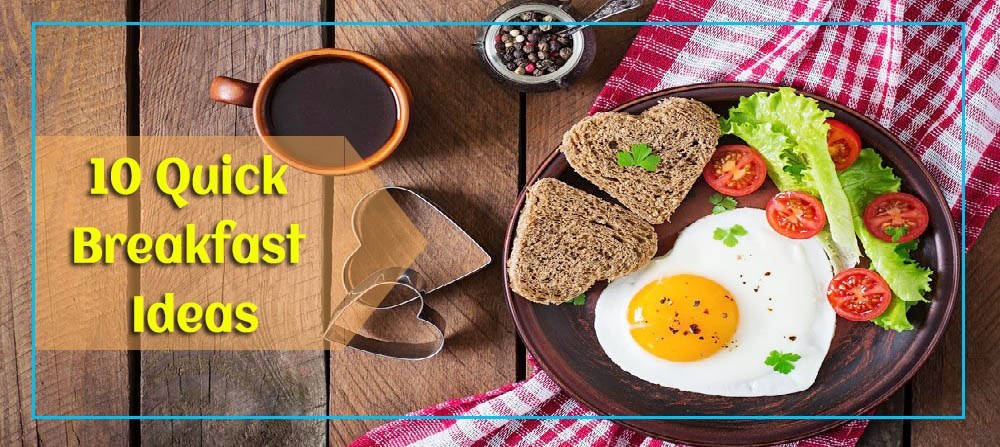 10 Quick Breakfast Ideas
I'm sure you remember the old saying that breakfast is the most important meal of the day?
Well, approximately 15% of us regularly skip breakfast, with those most likely to skip being school aged children and young adults
This is most likely due to busy schedules and simply not having enough time to eat before leaving the house and heading off to work or school. Here we have 10 quick breakfast ideas to whip up before walking out the door.
You will be able to start your day full of energy and be ready to face the day productively!
1. Ultimate French Toast
This reasonably healthy and super tasty breakfast only takes 20 minutes from start to finish. Simply combine eggs, milk and cinnamon in a bowl then dip the bread to coat both sides.
Fry quickly until golden brown. Serve it up hot with butter and a drizzle of honey or maple syrup. Yum!
2. Open Faced Sandwich
Sandwiches do not need to be confined to lunch boxes. This hearty start to the day will be ready in under 15 minutes and will help stave off the mid morning munchies! Just follow these easy instructions:
• Toast a slice of bread to your liking.
• Mix some arugula with olive oil and lemon juice, and season with salt and pepper. Set aside.
• Crack eggs into a hot pan and cook for a couple of minutes. Cover and cook for another two minutes, or until the egg whites are cooked through (a little longer if you want the yolks cooked too).
• Combine ricotta, parmesan, salt and thyme.
• Assemble sandwich. Start with ricotta mix followed by arugula salad and top it off with the egg! Season and eat immediately!
3. Peanut Butter and Banana Smoothie
Smoothies are a great breakfast to eat on the go, and you can pack them full of all sorts of nutritious ingredients. This smoothie contains bananas which slowly release energy, making it a great morning booster.
All you need to do here is throw some bananas, peanut butter, yogurt, honey and milk into a blender and blend until smooth. Pour in a glass to drink straight away or take it in a 'to-go cup' for your morning commute.
On a hot day try using frozen bananas to make this smoothie extra refreshing.
4. Basic Scrambled Eggs
Eggs are a great source of protein, vitamins and minerals and a a cheap addition to your grocery cart. Basic scrambled eggs can be whipped up in 5 minutes making them one of the best quick breakfast ideas.
Beat eggs, milk, salt and pepper in bowl and then add to a heated pan (with a dollop of butter already melted. Let the eggs begin to set a little, then fold and pull the mixture gently.
You know they are cooked when no visible egg liquid is left. Serve immediately by themselves or on a piece of toast.
5. Microwave Eggs in a Cup
This is an even faster take on the already speedy scrambled eggs. Spray a microwave-safe mug with cooking spray and add two eggs and a splash of milk.
Stir to combine and then put the mug in the microwave for 45 seconds. Remove the mug and give the mixture a quick stir, then place back in the microwave for a further 30-45 seconds.
Add some cheese and salt and pepper to serve. Not only is this Breakfast incredibly quick, there is also hardly any washing up!
6. Basic French Toast
This may not be the quickest of breakfast ideas, but the delicious taste makes the extra time totally worthwhile.
Combine eggs, milk and nutmeg in a bowl. Soak a piece of bread in the mixture for around one minute, make sure it gets a really good coating. Place the soaked bread in a hot skillet and cook until golden brown. Serve immediately.
For a faster version, cook up a large batch and then freeze. Simply heat up a frozen piece in the toaster and you will be good to go!
7. Bacon and egg Grilled Cheese Sandwich
Bacon and cheese make a delicious addition to this egg-based quick breakfast. Follow these simple steps for a filling, hearty take on the ordinary sandwich:
• Cook bacon and place to one side.
• Mix eggs, water, salt and pepper in a bowl and stir to combine.
• Add egg mixture to a hot pan and fold carefully until no liquid egg remains.
• Butter bread and place in hot pan.
• Assemble sandwich with bacon, egg mixture and cheese. Toast until cheese is melted and bread is golden.
• Eat it while it's hot!!
8. Easy egg Breakfast Quesadillas
This is a tasty twist on the traditional breakfast sandwich. Instead of using ordinary bread, grab some tortillas. Prepare eggs as if cooking scrambled eggs and make sure your bacon is thoroughly cooked.
Sprinkle some cheese on one half of a tortilla and top with bacon and the egg mixture. Fold the other half of the tortilla on top and place in a hot skillet.
Make sure the cheese is nicely melted and that you cook the tortilla on both sides. Cut in half for easy, quick eating.
9. Microwave ham, mushroom, Swiss cheese and egg Scramble
This one mug breakfast is great for anyone who struggles to find the time to eat breakfast. Add one egg, chopped ham, chopped mushrooms and a teaspoon of water to a microwave-safe mug.
Give it a quick stir and put it in the microwave for 30 seconds. Remove the mug and give it another quick stir before cooking it for a further 30-45 seconds.
Sprinkle the top with some Swiss cheese and spoon the hearty goodness into your mouth.
10. Microwave Flatbread Breakfast Pizza
You never thought you would hear the words 'pizza' and 'breakfast' in the same sentence, but this is a delicious combination. Add fully cooked breakfast sausage to a mixture of egg and milk.
Place in the microwave (make sure you are using a microwave-safe bowl) for 30 seconds. Remove and give the mixture a stir, pushing the eggs to the center of the bowl and then put back in the microwave for another 30 seconds.
Top a piece of flatbread with the mixture and sprinkle with cheese. Put the whole thing back in the microwave for around 15 seconds to melt the cheese. Your kids will be desperate to eat this pizza for breakfast, and it's healthy enough for you to let them!!
So there you have 10 quick breakfast ideas that will offer long lasting energy and plenty of protein.
All you have to do know is decide which one is your favorite.