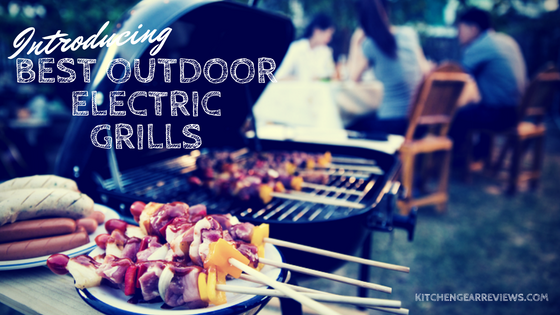 Best Outdoor Electric Grills Review
Everyone loves the taste of fresh grilled steak, chicken, or veggies, but not everyone lives in a place that allows charcoal or propane grilling.Fortunately, there are many options in electric outdoor grills that can provide you with safer outdoor grilling options that keep everyone happy and still let you enjoy your grilled goodies with no fuss from management.
To make sure you purchase the best grill for your outdoor cooking needs, I have compiled research on the four best electric grills on the market to help you make your buying decision an informed process that gives you peace of mind about your purchase.
To make the process even smoother, here are some things to consider when buying an outdoor electric grill.
| | | | |
| --- | --- | --- | --- |
| | George Foreman GGR50B Ou​tdoor Grill | ​ | |
| | George Foreman GFO201R Outdoor Electric Grill | ​ | |
| | George Foreman GGR200RDDS Round Outdoor Electric Grill | ​ | |
| | Char-Broil TRU-Infrared Patio Bistro Electric Grill | ​ | |
| | Easy Street Electric Cart Grill | ​ | |
Recommended Best Electric Grill Reviews
​01. George Foreman GGR50B Indoor/Outdoor Grill
George Foreman is the premiere name in indoor and outdoor electric grills, and the GGR50B is no exception. In addition to being designed for inside or outside use, this grill includes a sturdy pedestal that saves counter space in the house and makes cooking safer outdoors.
The sloped cooking surface means that fat and grease drain into an included tray for easy disposal or reuse, and all Foreman grills are non-toxic and non-stick, making your cleanup a breeze. I'd recommend this for someone who wants a larger indoor grill that they can take outside occasionally.
Pros:
Indoor/outdoor grill
Included pedestal
Standalone grill lid with integrated hanging clip.
Sloped non-stick/non-toxic grilling surface
Cons:
Temperature control is non-programmable.
Bulkier design.
​02. George Foreman GFO201R Indoor/Outdoor Electric Grill, Red
This Foreman model is designed with the large family/tailgating crowd in mind. With over 200 square inches rectangular grill space, this monster can easily prepare 12 servings at a time. It is also apartment approved, and has built in temperature control with 5 presets.
As with all Foreman grills, it is also non-toxic/non-stick, and includes a removable pedestal for easy transition from outdoor to indoor use if the weather changes suddenly. I'd say this is a good option for persons who plan on grilling for large cookouts, or want an electric grill for cookouts at their apartment or sporting events.
Large 200-inch cooking service cooks 12 portions at a time
Apartment Approved for use in rental properties
Adjustable temperature control lets you get consistent cooking results every time
Non-stick and non-toxic
Fat-draining sloped cooking surface with removable, dishwasher-safe drip catcher.
Cons
Large size limits its use in small spaces
Temperature presets are not programmable
​03. George Foreman GGR200RDDS Round Outdoor Electric Grill
A model that is more outdoor than indoor minded, the George Foreman GGR200RDDS is a 200-inch cooking surface that features non-stick heating surfaces and a central drain to collect excess fat during cooking.
It is a bit bulkier and doesn't have a pedestal stand like other outdoor models from Foreman, but it does offer the same large cooking area as other models, making it ideal for cooking multiple servings of food at once.
The lid is also completely separate from the rest of the grill, making it easier to prevent over cooking and turn food regardless of where it is placed on the cooking surface.
Larger cooking surface means more portions cooking at one time
Works indoors or outdoors
Non-stick and non-toxic
Fat-draining cooking surface with removable, dishwasher-safe drip catcher
No programmable presets
Cleaning surface can be challenging to clean
May develop food buildup over time with regular usage
​04. Char-Broil TRU-Infrared Patio Bistro Electric Grill, Graphite
This offering from Char-Broil offers a whopping 320 square inches of grilling real-estate, cooking up to a dozen hamburgers at one time. With its TRU-Infrared cooking system, this outdoor grill lets you cook your grilling goodies to perfection every time while keeping them juicy with less flare-ups every time.
Its porcelain-coated cooking grates are resistant to rust, and they clean easily with gentle scrubbing and hot water. Best of all, this model has a built-in wheeled stand for easy storage and portability. The Patio Bistro model is the high-end choice for renters who have limited space and limitations on what kind of grill they can have on the property.
Pros:
Best value for renters
Portable wheeled design
Lots of cooking surface area
Best electric grilling method technology available
Cons:
Cooking surfaces can be tricky to clean
Draws a lot of electrical power
Outdoor-only use recommended
​05. Easy Street Electric Cart Grill ​
A high end model that offers a suite of options normally only found on gas grills, this model sports a three-position cooking element that allows you the greatest variety of cooking options in an outdoor electric grill.
Whether you are grilling traditionally, cooking different foods with various temperature zones, or roasting rotisserie style, this grill has you covered. Speaking of rotisserie, the built in rotisserie feature gives you an added versatility that even many gas grills do not have. Add to that the folding side tables and storage shelf combined with a wheeled base, and this electric grill is everything anyone could ever want from a grill period, not just an electric model.
The Electric Cart Grill is the best choice for persons who don't want to sacrifice features when using an electric grill, and who have plenty of outdoor patio or cooking space and easy indoor/outdoor storage capabilities.
Pros
Versatile cooking options with three-position heating elements
Built in rotisserie
200 square inches of cooking space means plenty of portions cooking at the same time
Wheeled base means easy storage and portability
Disposable grease pan makes for easy cleanup.
Cons:
Large footprint means more storage space is needed
Outdoor only use
Takes up a lot of room on the patio or porch
Draws 1500 watts of power
Things to Consider Before Buying Best Outdoor Electric Grills
Are there easy-to-access electrical outlets where you plan on using your electric grill? Many buyers end up having to go out and buy an extension cord for their grill after they receive it because they did not consider their outlet locations when shopping for an outdoor electric grill.
Make sure you purchase a cord that can handle the electrical load your grill is going to draw as well, since using the wrong type of extension cord is a shock and fire hazard. Check the owner's manual for your electric grill before purchasing an extension cord to make certain you purchase the right one.
Temperature Control
Many electric grills come with thermostat set-and-forget controls that maintain a consistent temperature while turned on, making them ideal for grilling outdoors when you may be in and out of the kitchen and cooking area frequently.
Keep in mind while comparison shopping that that features like this are often considered a premium option, and can make your grill costlier. It does make using your grill significantly easier, but you need to factor in whether or not you are willing to pay for that ease-of-use.
Timer
In timers with alarms are fantastic. Granted, if you have a kitchen timer that works for you, then so much the better, but often the timers on the grill also control the power and heat settings, allowing you to set-and-forget while you finish making other preparations in the kitchen.
Size
Do you have an outdoor space sufficient to use or store your electric grill? It seems like a very obvious concern, but many buyers do not take the time to measure their outdoor space and compare the dimensions to product dimensions before making a purchase.
Consider this a friendly reminder to measure twice and ship once. Also, you want to consider if your outdoor electric grill has a sufficiently large enough cooking surface to prepare the meals you want to cook, as grills come in all shapes and sizes, and purchasing a smaller grill when you want to cook a lot of food at one time can create an unnecessary headache that can easily be avoided if you take a few minutes to evaluate your cooking needs in advance.
For my money, I'd have to say the best value of these four grills is definitely the Char-Broil TRU-Infrared Patio Bistro Electric Grill. I have a double oven in our kitchen at home that has an infrared broiler in the upper oven, and it makes even the cheapest cuts of meat or poultry sear perfectly and taste amazing.
Using an infrared grill to cook outdoors means that you will get the most consistent results every time without the guesswork of maintaining the perfect temperature.
Better still, this unit has a small footprint for storage or cooking space on your patio, and cleans up easily with a little warm water and a good scrubbing brush.
In my opinion, when it comes to flavor and results you just can't beat an infrared grill, and when making burgers or hot dogs this model delivers the good every time.
If you are in the market for a high quality outdoor electric grill at a value price, the Char-Broil TRU-Infrared Patio Bistro Electric Grill is the choice for you. If you can't use conventional grills where you live, this is going to give you the most for your money, and provide grilling enjoyment for years to come.