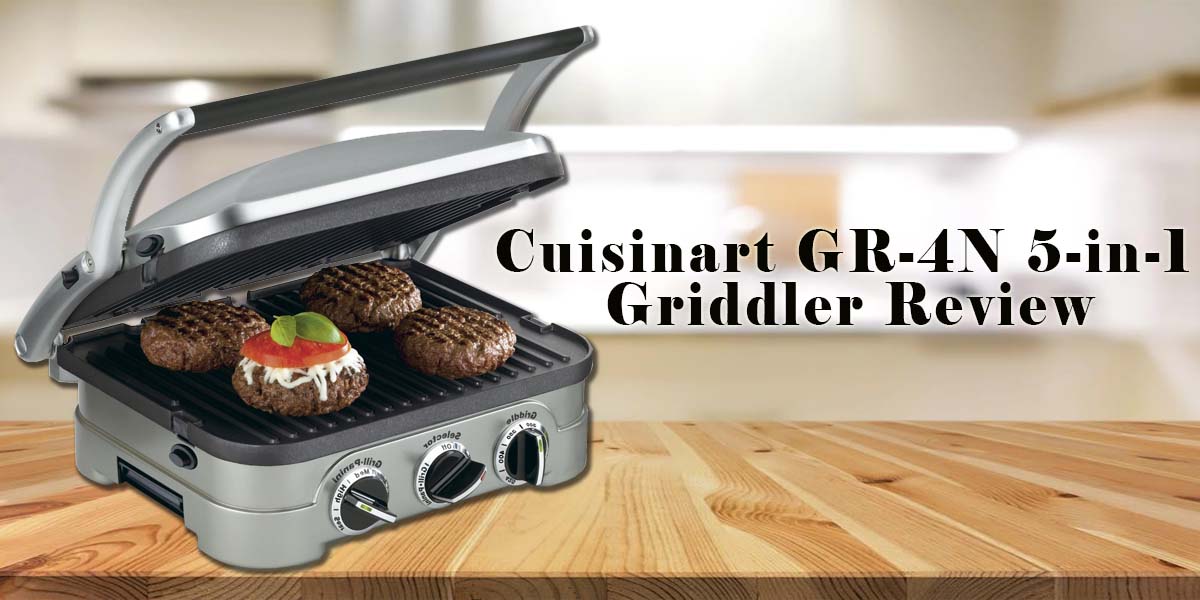 Cuisinart GR-4N 5-in-1 Griddler Review
A long loved American pastime is firing up the barbecue grill on those warm summer days and enjoying grilled hamburgers and hot dogs. Today, you can get that same great grill experience without having to step foot outside.
Being able to grill food at any time of the year has become so much easier with the introduction of indoor grills. With so many on the market its important to know what to look for. You want an indoor grill that has a variety of functions, rather than an appliance that you pull out a couple of times a year. A good grill also needs to be easy to clean and not take up loads of counter space.
Today, we'll be doing a Cuisinart GR-4N 5-in-1 Griddler review to compare its features, the pros and cons outlined by public reviews, along with some frequently asked questions we have seen come up for this particular indoor grill.
The main feature of the Cuisinart GR-4N 5-in-1 Griddler is its 5 separate cooking options and cooking plates. The plates are non-stick and reversible, with an integrated drip tray that allows grease to drain away from your food for healthier grilling.
The Full Grill option allows you to cook your steaks, burgers, poultry, fish and vegetables as you would on an outdoor grill. The Griddler's cover can be laid flat, doubling the cooking surface, 200 square inches to be exact. For this option you flip the reversible plates to the grill side. You will need to occasionally flip your food to get it cooked on both sides.
The best thing about this option is that you can cook different types of food on each side without the flavors mixing together. Its a great option when you need to cook for different people. Say you want steak but your other half wants fish.
No separate pans, no waiting for one thing to cook before you cook another, and you won't have to clean the grill when switching meats or food as you would with a smaller grill surface. Its ideal for cooking big batches of food as well.
Breakfast Just Got Easier
The Full Griddle option works the same way as the Full Grill. The difference is that you will be using the griddle side of the removable plates. I remember weekends where I had to get every pan out of the cupboard to make a regular breakfast, and the cleanup was a nightmare. With the Cuisinart GR-4N 5-in-1 Griddler you don't have to cook pancakes in one pan, eggs in another and your sausages and bacon on a separate grill any more.
The double cooking surface allows you to cook up breakfast meats, eggs, hash browns, french toast, waffles and pancakes all in one go. Its a great option when you need to cook for several people or just want a big full breakfast with everything for yourself. You will need to flip your food but the non-stick surface allows for easy flipping of eggs and pancakes and makes cleanup a breeze.
Half And Half
With the non-stick plates being reversible, you can use the grill side on one plate and the griddle side on the other. This lets you cook a meal that requires different cooking methods together. Steak and eggs anyone? Its great for grilling your vegetables on one side and toasting bread on the other.
Cook your tacos or quesadillas with a steak or some fresh shrimp. Do you like your hamburger and hot dog buns toasted? You can both cook your meats and toast your buns at the same time. This is also a great option when you have to cook things at different temperatures. Gone are the days of standing over a grill and timing when to throw on other food that doesn't need to cook for as long.
You won't have to worry about thinner pieces of meat being over cooked or thicker being under cooked with the ability to use two temperatures and methods on one grill. The combinations are only limited to your creativity and imagination.
Healthier Grilling
The Contact Grill option is best for when you want to cook something quickly or are after a healthier way to grill. Food can be cooked quickly because you are using both sides of the grill (bottom and cover) to cook both sides of your food at the same time.
Using the grill sides of the plates is recommended for this option. The non-stick surface means no crusty build up and any grease will slide down towards the rear of the grill, draining off into the integrated drip tray/grease catcher. The best part is the floating cover, which allows the handle and hinge of the Griddler to adjust to the thickness and size of whatever you are cooking. Food comes out evenly cooked in no time.
Cooking steaks is a breeze this way and you can cook them to your liking, rare to well done, without all of the grease and fat that you tend to get on a regular outdoor grill (not to mention the crusty bits on the grate).
Creative Sandwiches
The Panini Press function works similar to the contact grill function. You can use it to grill your sandwiches, quesadillas, wraps, toast your bread or just warm it up a bit. Its recommended that you use the grill plates for this option because Panini presses use a grill surface as well. However, you can use the griddle side of the plates for thinner sandwiches or wraps that you just want to heat up quickly.
My favorite thing to make is a grill cheese and tuna sandwich using this option. It gives you more choices for your lunch time meals and offers a healthier option, whether you are a vegetarian or meat eater. The floating cover allows even cooking on both sides for any thickness of bread or sandwiches you happen to be making.
I know many people who skip lunch or eat something quick but unhealthy who have changed their eating habits once they had an indoor grill with a Panini press function.
Cleanup Is Quick And Easy
When I think about cleaning my outdoor grill it makes my skin crawl. The scrubbing of the grill plate, the charcoal dust and sticky grease..it can take loads of time. Cuisinart have put a lot of effort into making the clean up process of the Cuisinart GR-4N 5-in-1 Griddler a pain free one.
The grease from cooking drains into the integrated grease tray located under the cooking surface. The plates are non-stick to lessen any caked on crust to develop. If you want to make the process of cleaning the grill even quicker, you can line the drip tray with some aluminum foil before you start cooking.
All you need to do is toss the foil and you won't need to clean the grease tray. The cooking surface of the plates can be easily wiped down with a moist paper towel. You place the moist paper towel on the plates and then close the cover (with the appliance off) and just let it sit for about 10 minutes. Then you can wipe the plates down with a non-scouring sponge the clear up any leftover mess.
Great Appliance For Colleg
e
The Cuisinart GR-4N 5-in-1 Griddler is an ideal appliance for those who are off to college, live in a dorm or a small apartment, or who don't have a lot of kitchen space. It's a compact size that won't take up too much counter space, and can be used for a variety of cooking options, so you won't need a lot of other appliances that clutter up your small space, such as a toaster, toaster oven or a larger grill.
You can cook everything from breakfast to dinner quickly and easily. Its like having 5 different appliances in one. You have two temperature control knobs along with a function selector knob that is easy to read and which tells you when the grill is on and ready for cooking.
The removable plates are easy to snap in and out of the unit and you don't need any extra space to store them. You also get gourmet recipes and a scraping tool in the bargain.
Pros
Grills food quickly
Leaves sear marks like you get on a traditional outdoor grill
Cooks at a high enough temperature to handle red meats
Can cook burgers from frozen in about 8 minutes
No charcoal or propane needed
Easy cleanup of grease tay and plates, which are dishwasher safe
Drains greasequickly and easily with the integrated grease tray
Non-stick surfaces – no need to pre-grease
Compact design is great for small areas
5 in 1 function for cooking variety
Cons
Not best for entertaining a large amount of guests. Its more a personal/family grill
Any indoor grill will lack one thing you get from an outdoor grill – that BBQ flavor
Due to higher heat capacity, care needs to be taken even when touching the body of the grill.
​Ques:. How thick of a steak or pork chop will it fit?
​​Ques:. How thick of a steak or pork chop will it fit?
​​Ques:. I'd like to use this outdoors with a generator. How many amps does it draw?
​​Ques:. Can the floating cover be adjusted to hover over an open faced sandwich or pizza?
Costing under $100, the Cuisinart GR-4N 5-in-1 Griddler does offer a lot for your money.
Its versatility alone is well worth the price, but you do need to keep in mind that constant use will wear the appliance down and lessen the life of it, as with any appliance of this type.
If you are looking for something more robust that can serve many people, as you would on an outdoor grill, this may not be the best product for you.
However, it's a great addition for college/dorm rooms, small apartments and single working individuals who need something that won't clutter, will cook a variety of foods and is easy and fast to cook and cleanup. Its a good grill for personal and family use.