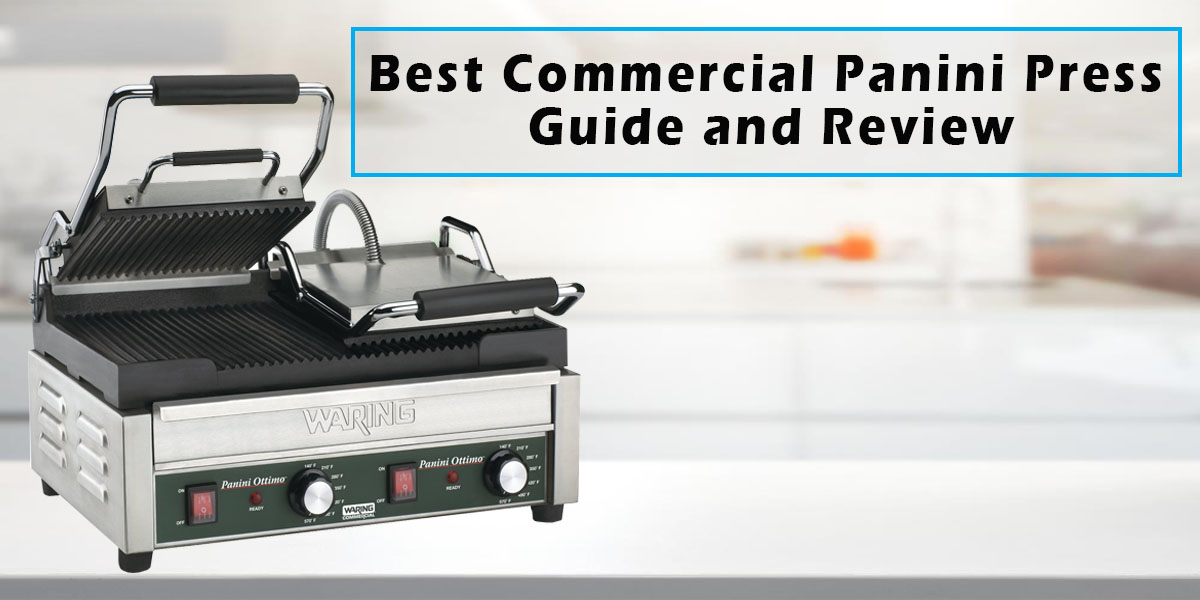 Best Commercial Panini Press Guide and Review
A commercial panini press is the ideal piece of equipment that you want in your kitchen. It makes perfect panini style sandwiches using baguettes, ciabatta or michetta bread. You simply add in your favorite lunch meats and within minutes you have a delicious plate of food ready for you to enjoy down to the last bite!
I took a look at several different commercial panini presses on the market and would like to recommend any one of the following kitchen staples as the best commercial panini press for you.
Each one offers a variety of beneficial features that come together to give you the opportunity to create delicious panini sandwiches that everyone is sure to love!
| | | | |
| --- | --- | --- | --- |
| | Waring Commercial WPG 150 | | |
| | Cuisinart GR-300WS Griddler | | |
| | Breville BGR820XL Smart Grill | | |
| | | | |
| | | | |
Recommended Best Commercial Panini Press
After spending a considerable amount of time researching the available commercial panini presses on the market, I recommend any one of the following five products as the ideal accessory for your kitchen.
01. Waring Commercial WPG 150 Compact Italian-Style Panini Grill
Although this panini press is a little on the heavy side by weighing in at approximately 45 pounds, it contains a high-quality stainless steel casing that can withstand the rigors of a commercial kitchen.
It's functionality comes from having heat-resistant handles, making it easy for you to handle the product or move it to another location while it's cooking without worrying about suffering burns on your skin.
The versatile grill surface area gives you the opportunity to cook hamburgers, chicken,vegetables, panini sandwiches and more without sacrificing the flavor of the food.
Inside the panini press you will find ribbed cast-iron plates that provide even heat distribution.
That ensures your food will cook properly each time.There are removable drip trays, which allow you to easily dispose of excess grease or other liquids that are part of the cooking process. Burning food is never a problem with the product as the 'ready' indicator light goes off when it's time for you to remove the food inside.
02. Cuisinart GR-300WS Griddler Elite Grill, Stainless Steel
You will never run out of cooking ideas with this commercial panini press! It offers six different cooking options in one product. You can select from the following options each time you are cooking food items.
Contact Grill
Panini Press
Full Grill
Half Griddle
Top Melt
You also have the option to sear food at 500 degrees Fahrenheit for up to two minutes at a time.There are dual-zone temperature controls to help you regulate the cooking temperature as well.With so many available ways to prepare food, you will never grow tired of cooking any type of food that you can image.
The cooking plates are removable and dishwasher friendly, which makes cleanup a breeze.Before placing the plates in the dishwasher, you may need to use a bit of elbow grease to remove some food items off of the plates. It depends on what type of food item you are cooking at the time.
03. Breville BGR820XL Smart Grill
You will instantly fall in love with this product immediately upon taking it out of the box! It features state-of-the-art cooking technology that utilizes heat sensors to bring cold food up to a normal cooking temperature.
By doing so, you have the versatility of starting the cooking process on an outside grill and then bringing the items inside to finish cooking on this product.
There are six different adjustable height options for the top cooking plates. That makes it possible for you to cook an open-faced melt sandwich and quickly switch to a larger size sandwich without missing a beat.
The heat temperature in the top plates can vary at times,which may require additional cooking time to give your food the right temperature on top.
Cleanup is a breeze with the removable cooking plates that are dishwasher friendly. You also have the ability to remove the drip tray, making it easy and safe to dispose of any grease that forms during cooking.
04. Calphalon 5-in-1 Removable Plate Grill
Having the best cooking equipment and appliance at home can be such a joy for the family. These cooking essentials enable you to cook the best meals and make the most delicious snacks at the comfort of your home. It is also a great way for you to showcase and unleash the inner chef in you, and provide your family great and healthy dishes they will surely love.
However, with the demands of work and time, there are just instances where cooking is almost impossible to do and requires tons of time to be done.
That's why when this kind of situation happens, there's no other choice left but to order takeaway fast food, which is of course the fastest option, but not the healthiest and tastiest one.
So, if you are looking for cooking equipment that lets you cook food and make snacks quick and easy, you should totally check this Calphalon 5-in-1 Removable Plate Grill out.
This cooking equipment enables you to do the best meals straight from the heart! It allows you to cook eggs, make pancakes and even grill burgers and Paninis. So, aside from being the best removable plate grill, this is also considered to be the best commercial Panini press in the market.
This Calphalon 5-in-1 Removable Plate Grill can be easily converted into a full grill or a full griddle, making it greatly versatile and functional.
Its plates and tray are dishwasher-safe, and it has an Opti-Heat system feature which enables your food to be cooked evenly and according to your preference. It also allows you to make burgers and other meals as fast as 3-10 minutes!
Even though this Calphalon 5-in-1 Removable Plate Grill's cooking surface is quite smaller than others, and its non-stick plate does not remain non-stick forever, the best features it has simply outweigh these drawbacks. With the quality, versatility, convenience and time efficiency it offers, there is really not much to ask for.
So,if you are looking for the best kitchen equipment that lets you cook delicious meals fast and easy, this Calphalon 5-in-1 Removable Plate Grill is the best choice for you.
05. Waring Commercial WPG300 Panini Tostato Ottimo
You will find that this panini press is capable of cooking anything from traditional paninis and wiches to hamburgers with ease. It gives you the opportunity to cook the main menu item,such as grilled chicken and add in a side dish, like vegetable for a completely delicious meal.
The exterior of the product contains high-quality stainless steel, which easily wipes clean using a soft rag and mild cleaning product. On the inside, you will find ribbed cast-iron cooking plates that evenly distribute the heat temperature during the cooking process.
At times, the right side cooking plate may not be as warm as the other cooking plate areas. Simply extend your cooking time by a minute or two to resolve this issue.Overcooking food is never an issue with the 'ready' light indicator on the front of the product.You also have heat-resistant handles, making transportation of this product while it is cooking a breeze.
FAQ's
Answer:

The best way to clean any appliance is with soapy water and a sponge. Dish soap or a similar cleaning agent should do the trick. If there are multiple burnt-in spots, you'll need a stainless steel cleaner specifically made for appliances. For assistance finding one of these cleaners, call the manufacturer who manufactured the panini press. The other option would be to reseason it after washing it, by wiping cooking oil on all surfaces, then bake at 350° F for 1 hour. Touch up as needed before baking again.
How to Choose the Best Commercial Panini Press
When purchasing your next commercial panini press there are several considerations that I want you to keep in mind. Each of the following elements will help you make an educational decision on how to find the best commercial panini press for you.
Floating Hinge
One of the greatest aspects of outdoor grilling is having the ability to raise and lower the grill cover to various heights during the cooking process. The floating hinge allows you to adjust the height level so that you can better accommodate different types of bread.
For example, you can raise the cover of the press higher when cooking with baguette bread and then lower it slightly for use with flatbread or pita pockets.
Built-in- Adjustable Thermostat Gauge
Part of the cooking process is knowing how long you need to cook a food item. For that reason, you want to consider purchasing a commercial panini press that offers a built-in adjustable thermostat gauge.
That gives you the opportunity to cook food items, such as hamburgers, grilled chicken breast, fish or other foods without running the risk of overcooking or undercooking the food.
Grill Surface Area
A key element to your new commercial panini press is the available surface grilling area space you receive. More space means you can cook more than one food item at a time. It works to get your food out of the kitchen and onto the table where your dinner guests can enjoy the meal that you prepare.
You may prefer a smaller grill surface area if you only make paninis once in awhile. A smaller surface area lets you create breakfast waffles, grilled cheese sandwiches or any type of single melt sandwich that you have in mind.
Removable Plates
When cooking panini sandwiches, the temperature tends to rise, causing items inside the food to melt on the cooking plates.
Leaving that substance buildup on the plates can cause a small fire the next time you use the panini press. By having removable plates, you can easily place them into the dishwasher for safe, sterile cleaning.
Safety Lock
Although the best commercial panini press for you will not take up a significant amount of counter space in your kitchen, you may wish to store it away in a cabinet when it is not in use.For that reason, you want to consider purchasing a panini press with a safety lock feature.
By having the ability to lock the panini press when it's in storage, you will prevent damage to the press if the grill opens unexpectedly inside the cabinet. It is also beneficial when you have small children in the home who may unknowingly touch the panini press while you are cooking food.
Additional Considerations
There are a few extra considerations that I suggest you keep in mind when looking to purchase the best commercial panini press on the market.
Price Point
Scratch-Resistant Grilling Surface
Electrical Power Wattage Capacity
Easy to Operate
Storage Options
Cooking Versatility
Final Verdict
Adding a commercial panini press to your kitchen increases the possibilities of food items you can prepare. You need a product that can withstand the fast-paced commercial kitchen environment without showing a scratch.
Each of the products in this review are the perfect addition to your kitchen. You need something dependable, high functioning and versatile. Each of these products accomplishes those goals. Therefore, I recommend any one of the products in this review as the best commercial panini press for your kitchen.